We provides 24/7 platform of Quran Learning for Kids online educational courses. Young boys and girls from round the globe can take advantage to attend learning Quran for kids course without leaving their home. Quran for kids program has been designed especially for those, who are finding it difficult in reaching to Masjids regularly, to learn the Holy Book of Allah. All you need is a Personal Computer or Laptop with a microphone and head phone set, a broadband internet connection to avail this facility (Video camera / web cam not necessary). We provide 1 to 1 live online Quran learning for kids classes conducted by our Female Qaria or Male Qari using Skype messenger.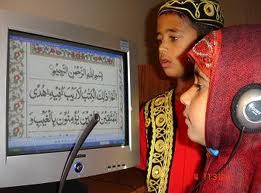 We, accept kids with age above 4 years to join this easy online Koran learning program. Quran For Kids is a must education for every Muslim child. A children needs to learn Kalmay, Masoon Duas, Islamic Prayers and Islamic values which will bring a good character in them. Once they starts taking our online Koran lessons regularly, they will quickly grasp it. Alhamdu lillah we organize 1 to 1 Holy Koran classes via internet. So, that students from any part of world can Learn Tajweed rules, according to their schedule and pace. This helps parents also to watch their kids learning about Islam, in front of their eyes.
Quran For Kids
Your child learn about Quran and Islam right from the comfort of your home.
No driving / pick and drop required to Masjids or nearby Islamic center.
Learn Basic Noorani Qaida to understand Arabic Alphabets.
Learn Basic reading lessons, easily.
Learn Quran with Tajweed rules.
Learn Basic Islamic Teachings ( Islamic Prayers, Islamic Duas and Kalmay ).
Get free downloadable Quran for kids in multicolour, Noorani Qaida and Islamic story books for kids.
Get tutor of your choice either Female Qaria or Male Qari.
Online Koran recitation classes for 3 Free days.
Affordable and comfortable fee packages.
An exclusive online teacher for your child.
Our Male or Female tutors are available at your convenient hours.
Easy Online Quran classes for kids without leaving your home premises.

Ask questions and solve your doubts during online learning classes via voice call with your tutor.

Quran Learning For Kids is an excellent structured program that enables your child to learn Quran online without leaving the comfort of home. We offer 24/7 classes, online. You can try three FREE trial lessons to evaluate our online learning service. Afterwards that you are able to decide to carry on or discontinue learning with us. Find us on

Twitter

and

Google

.
Learning Quran for kids
In today's busy world, most of the parents are just too busy in their own lives that they find very little time to teach their kids the art of reading Quran. Nonetheless, the importance of reading holy Quran cannot be neglected right? At our website, we offer courses of Learning Quran for kids. By just enrolling your kids with our website, we will make learning Quran for kids easier than ever. To keep the kids motivated about reading Quran is the biggest challenge these days and you can rest assured, we will cater to that.
The ideal way of learning Quran for kids is to constantly listen to the lines of Quran being read accurately. With our experienced male and female Quran teachers, your kids will be constantly hearing to the verses of Al-Quran with perfect pronunciation. This makes learning much easier and perfect at the same time. The requirement of kids being heard is really important when it comes to learning Quran for kids as they need to be corrected with perfect pronunciation. Only when they are heard, can they be corrected, right? Our Quran tutors will be all ears to your children when they are reciting Al-Quran and timely corrections will be made. Enroll your kids with us today!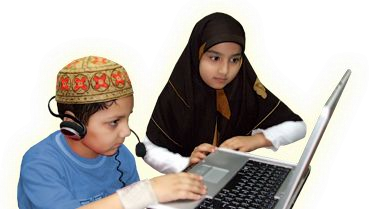 Online Quran classes for kids
Are you too busy that you do not find time to teach your kids the method of learning Quran? You just don't want to risk it by letting your kids learn the holy Al-Quran all by themselves? If yes, then you have come to the right place! We offer online Quran classes for kids making Quran learning much easier and simpler. The biggest hurdle today is making the kids well versed with all the rules of Tajweed. Wrong pronunciation of the words of Quran is the last thing that we are looking for. Teaching the kids the most accurate pronunciation is our part of job.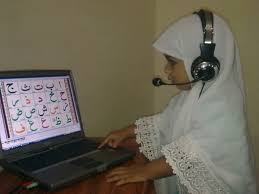 Keeping the attention of the kids in the right track becomes very important when it comes to teaching Quran for kids. Our experienced team of Quran tutors will make sure that the kids are concentrating and taking home the art of reading Quran. A lot of focus is given to reciting Al-Quran in front of kids as we believe that learning comes by listening and reading. When kids are continuously listening to the lines of Al-Quran pronounced by our Male and female Quran teachers, they are more likely to recite perfectly. So, if you are hunting for some best Online Quran classes for kids, enroll with us right away! We will be happy to serve you.